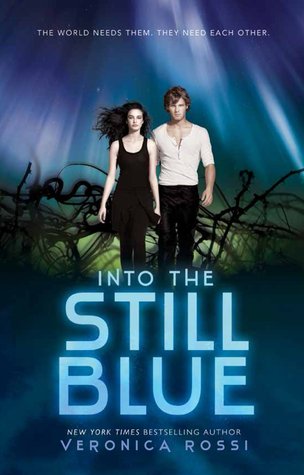 The things that
Into the Still Blue
did to my heart still have me all fired up. Rarely do I see trilogies done right but Under the Never Sky is one of the few that did not disappoint at the end.
Aria is defiantly not the same girl who appeared in
Under the Never Sky
. Yet her transformation seems natural and is for the better a million times over. Her relationship with people around her always amazed me. Even though she did not carry a Blood Lord Chain she is a leader that both dwellers and outsider people looked to. Aria's relationship with Perry gave her a chance at the outsiders accepting her but who she is what won them over eventually and I love her for that.
Perry continued to struggle with the burdens put on him leading and his desire to save everyone risked him saving no one many times. I do not want to give away spoilers but Perry does evolve and learn to cope with this.
Roar stayed Roar, despite suffering from a broken heart and unable to keep the people he loves safe Roar did not give in. I love Roar for that but I really wanted things to end differently for him.
Soren was a surprise, I really did not think he would get such a big part after the start of
Under the Never Sky
. Despite him helping the outsiders I still do not care for Soren. Aria may have forgiven him but Soren hid behind his diagnoise and refused to take responsibility for his actions.
My one complaint I would have liked an epilogue set a year or so into the future with an update on everyone.
The writing was smooth and well done, everything was always easy to read and I thoroughly enjoyed the world Mrs. Rossi's world.