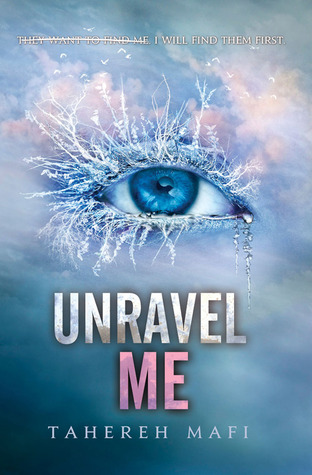 Unravel Me seemed to start out a bit slow and sort of dragged in parts until around the middle but I still enjoyed the story.
Juliette is one awesome character. Despite having a lethal touch and being feared by humanity she is not the monster they all call her. She has a big heart and cares about everyone and not wanting to hurt anyone. Sadly she does seem to include not wanting to hurt herself in that way of thinking. Juliette's attitude did bother me at times in the beginning of Unravel Me, she was pretty self centered and not seeing things as a whole. With a war looming that way of thinking can get people killed.
Adam drove me crazy for most of the story. Just something about him I do not care for and he acted like a child throwing a fit most of the time.
Kenji is totally awesome and while he seems like a comic relief character he is so much more.
Warner is just flat out awesome.
The writing flowed smoothly in most parts, a couple spots had a bit of a hiccup but all in all it was good writing.
I am eager to read Fracture Me and find out the conclusion of Juliette's story.