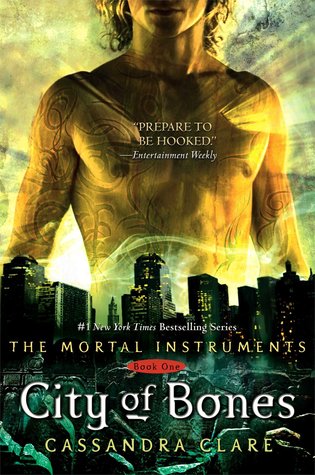 After reading all of Cassandra Clare's released work but The Mortal Instruments series I figured it was time to give
City of Bones
a try.
Clary was an interesting character and I have hope for her growing in the series. One of my downfalls with her was the way she saw things since she was an artist I wanted to see more of that in her way of viewing the world. I also wish she had been a bit older, her maturity level jumped up and down a good deal which I hope was just used to someone learning how to write a compelling character.
Jace seems like he has a lot of depth to him but that it will take a long time to get to know him. I like that about him, I love learning about characters in layers. At this point I like Jace more than Clary.
Alec and Isabelle sort of drove me crazy. I was not fond of their attitude towards outsiders. Plus it seems a bit odd that Jace is open to mundanes and his foster siblings are so against them.
The writing bothered me at times and I did see a few grammar mistakes. I have liked the later writing by Cassandra Clare more so I am hoping the series will improve in that regard. It grabbed my attention enough that I want to keep reading.