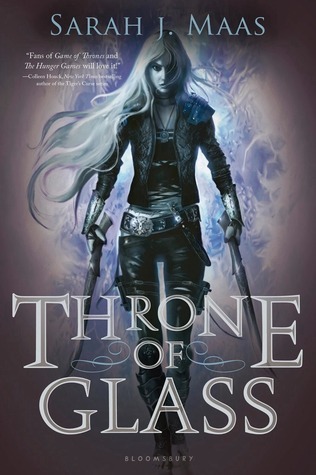 Throne of Glass
has been on my to-read list for a good while and while I have read mixed reviews about Throne of Glass I figured it was time to give it a try.
Celaena Sardothien came off as a walking contradiction and I liked that about her. A deadly assassin who likes to dress up and be girly was a nice twist. While I liked that twist other parts bothered me like Celaena's stubbornness it was too much at times and exaggerated to be unbelievable. Having been at the salt mines Celaena knows her fate she fail and despite that Celaena seemed to constantly get in over her head with mysteries in the castle thinking she would just handle them on her own.
The crown prince drove me crazy especially his womanizing ways. It always comes off as unbelievable to me when a man is a huge womanizer then suddenly just interested in one woman.
The Captain of the Guard was my favorite character by far and the most believable. Keeping a distance and eyes alert Chaol did not forget who Celanena was or why she had been sent to the salt mines. While it was clear some people pitted Celaena for having been in the salt mines Chaol was always quick to remind them Celaena was a person who killed for money and I adored that about him. With Chaol duty always came first.
A lot was going on with the story, mystery, love, action, and magic were all woven together to create a fast paced storyline. While I never got bored reading Throne of Glass I did not care for certain parts of the story. At times the writing was not my favorite either. Despite this I would like to read the second book eventually.