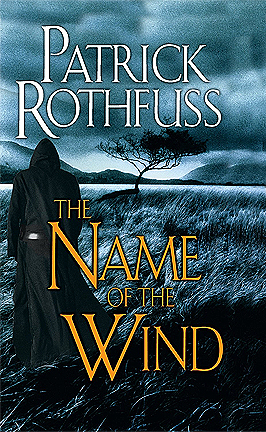 The Name of the Wind
is the first book in the
Kingkiller Chronicle.
Kvothe is a legendary hero in the land and people desire the story of his life. Unwilling to share his past with anyone Kvothe finds a small town and becomes an innkeeper. Unluckily for Kvothe a famous writer stumbles upon him taking care of some creatures in the woods.
Famous for having chronicled the lives of numerous people including kings and famous warriors Chronicler has one goal in mind the story of Kvothe the prodigy who emerged from the University. Despite not knowing Kvothe's location Chronicler sets out to find him and with luck manages to find and convince Kvothe to share his story.
Kvothe is the main character in the book since he is telling the story of his life but despite that none of the other character come across as being slighted, under developed, or ignored. I loved the flow and balance between Kvothe telling his story and the stuff happen in the inn. Despite being a hefty story nothing felt like it dragged or had unnecessary information. High fantasy is my favorite so you have to enjoy that genre to really stay with The Name of the Wind. My only issue is the magic system is a bit complex and despite reading that part several times I still struggled to get a good picture of how the magic system worked.
Despite being part of a trilogy The Name of the Wind has a wonderful ending, lose ends were tied up nicely and yet it was left open for the next book to easily start where the story stopped. I LOVED the writing and the flow of the story. The Name of the Wind was mesmerizing and highly entertaining. Hopefully I am able to start The Wise Man's Fear soon.