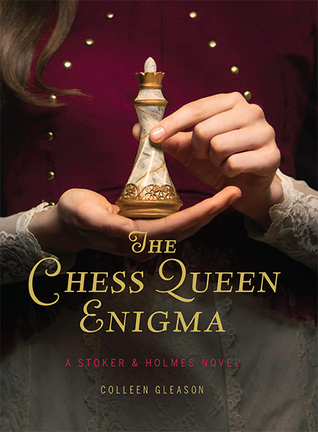 The Chess Queen Enigma is
the third book in the
Stoker and Holmes
series.
Like previous books in the series the story is told both from Mina and Evaline's points of view.
Mina is the niece of the famous Sherlock Holmes and inspiring to do nothing but follow her uncle with solving mysteries despite what society says is proper for a young lady. While Mina does care for her reputation she is willing to bend the rules when it comes to gathering information pertaining to a case. I love this about Mina, despite trying hard at being a proper young lady Mina lets who she is shine through including her faults. While overbearing, a know it all, and full of pride Mina is still my favorite of the two heroines.
Evaline's birthright is carrying the bloodline of a famous vampire hunter. Despite having finally killed a vampire Evaline is not living high off it instead it haunts her. This makes Evaline feel far more human and I enjoyed learning how finally practicing her trade affected her. Unlike Mina Evaline's style is to rush in and think of the consequences for it later. This has gotten in her in trouble several times and slowly Evanline seems to be realizing this.
Colleen Gleason continues to amaze with her elegant writing, world building, and complex plot development. As the Stoker and Holmes series continues I love every book on a whole new level. Without a doubt
Stoker and Holmes
is my favorite of the steampunk I have read. I did not see several things coming including the ending, caught me totally off guard. I am eager for the next exciting installment.